It's almost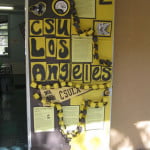 time for the holidays, yet we have so much left to do to help students with their college applications, scholarships, and financial aid. Here are some ideas to share with teachers and counselors about how to integrate college readiness with the holidays.
Host a college door decorating contest. Have each class or office pick a college out of a hat and give them a week to decorate it. Score it on 1. Looks 2. Content. Take pictures of the three winning doors and send it to your local newspaper or tv station. Post them on your school's website.
Harness the power of visiting college students. College students come and visit all the time during the holidays. They can visit all juniors to help them develop strategies for picking which schools to apply. They can promote scholarships to juniors and seniors. They can give college survival tips to seniors and their families. They can speak with parents about the value of financial aid.
Ask for college readiness and promotional holiday gifts. Ask your family and friends to provide college readiness books, maps, and activities as some of your holiday presents. It's time to start developing a college readiness wish list. What better way than having your friends and relatives donate books, banners, and/or pictures from their college years and to donate college readiness books that you select for your students.
Offer a college/scholarship application readiness party. Have students come in for a day or two to work on their college/scholarship applications. Have pizza and soda or a potluck.
Run a "You Can Pay for College Lesson Contest" for teachers. Encourage teachers to develop a lesson that integrates the concept into an activity or lesson between now and vacation. Have them teach the lesson and provide sample assignments that students produce. Collect the lessons and student and build them into a series of activities for next year. The winning teachers can get some free materials for their classrooms.
Go college readiness caroling. Along with your peer mentors, go caroling to each classroom with you. But instead of singing holidays songs, have them write their own verses for the 12 Days of Xmas but this time for College Readiness.
Prepare some holiday college wishes. Prepare a holiday card for each grade with college and financial aid wishes. Make sure you get to share your tips for the holidays for each grade. [1]
Send thank you notes to all junior and senior teachers. Have your peer mentors or a group of seniors write thank you notes to all teachers who have completed letters of recommendations for students.
Develop college readiness videos. When any alumni come and visit, videotape them with their hopes and wishes for students. Post their videos on your school's website and social media over the holidays.
Organize a holiday college wish wall. Have students write their hopes and wishes for college on paper ornaments and post them around the school. Current college students can also write their wishes down on different ornaments and become a different set of displays around the school. Starbucks and Coffee Bean do this all the time.
---
[1] Some newsletter ideas. Ninth grade. It's time to make sure you make-up Ds and Fs early. Tenth graders. Make sure you plan some activities for spring and summer. Eleventh graders. Take a look at your PSAT scores and make a testing readiness plan. Plan a trip to several colleges during spring break. Seniors. Begin to collect your family's financial information to complete your FAFSA in January. Apply for three more scholarships and three more private colleges.